Societe Generale recognised by The Banker
Societe Generale has been recognised by The Banker as Investment Bank of the Year for Securitisation and Investment Bank of the Year for Infrastructure & Project Finance
Societe Generale has been recognised by The Banker as: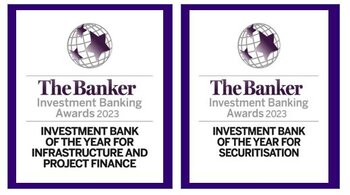 These accolades recognise our expertise and credentials globally in key franchises as well as our ongoing effort in putting sustainability at the heart of our strategy.
The Banker acknowledged Societe Generale's innovative approach, comprehensive strategy, good understanding of client needs through these awards:
Investment Bank of the Year for Infrastructure & Project Finance
"We are delighted by The Banker's selection of Societe Generale as 2023 Bank for Infrastructure and Project Finance. We achieved impeccable standards of service and execution in challenging market conditions while continuing to deliver innovation across the wide and expanding infrastructure and project finance spectrum covering interconnectors, offshore wind, battery storage, the EV value chain, critical minerals and TMT/digital to name a few. This award consequently recognises the trust of our clients, the quality of our teams and our choices in prioritising transactions with relevance and a positive impact on climate, sustainability and geographic diversity. This decade is critical in the battle for climate change and our transactions demonstrate our focus and the urgency that we bring to this challenge."
Investment Bank of the Year for Securitisation
"Extremely proud to receive the 2023 securitisation award, above all special thanks to our clients both issuers and investors and finally to Societe Generale's team members. Structured funding and capital solutions are more than ever critical to accompany the real economy and to successfully tackle many developments in energy, transportation or digital to name a few. Complementary to other funding sources, securitisation is a very efficient way to channel capital and connect industry leaders and investors around the world within a well-established and regulated framework. Securitisation industry in close cooperation with regulators and political authorities has an even more important role to play in coming years to succeed in all these necessary transformations. Societe Generale looks forward to contributing to these objectives!"
These awards are another testament to the bank's depth of industry know-how and our multi-product sector commitment to supporting the needs of our clients.